4. Course catalogue
4.1 Opening the course catalogue
To browse the course catalogue, simply click Course catalogue in the left-hand column and choose your faculty.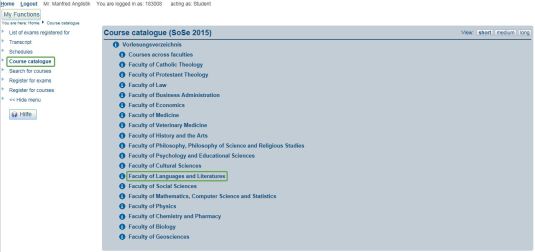 4.2 Searching for courses
This will open a tree-like structure, which will guide you through the programs on offer in each faculty and/or department and finally lead to single courses.

In the top right corner, you can choose between three viewing options, each displaying more details for each individual course.
To access all details, simply click on the course title, which will take you to a separate page.
4.3 Pre-selecting courses
To pre-select a course, tick the respective box below the box Dates/Times/Location and click the button Add to schedule. The course will then be transferred to your schedule.
The course will be displayed in your schedule. Click on the button Save to confirm your selection.